SERVICES
Our people and the services we provide define our firm. We take pride in delivering a first class client experience and work diligently to keep our staff trained and focused on always exceeding our client's expectations. Our role as technology advocate begins with initial client discovery meetings and always take us through the long term service and care of completed installations in the Wichita, Kansas area.
LIGHTING CONTROL
A lighting control system is now becoming an expected feature in today's luxury home. Intuitive keypads replace banks of switches for an elegant look. Preset scenes ensure your interior design and architecture are always properly highlighted. A single button press can put your home into a sleep, entertain, or vacation mode. Convenience, safety, energy savings, and your home's aesthetic appeal are a few of the many reasons why a lighting control system may be right for your home. As an authorized Lutron lighting installer in the Wichita, Kansas area, we can enhance your home with completely automated and easily controlled lighting.
SHADING OPTIONS
With motorized window treatments, you can easily adjust the amount of daylight in your Wichita, Kansas home to increase comfort, save energy, and protect interiors. Motorized shades and drapery transforms harsh glare into soft pleasing light, enhances privacy while preserving exterior views, reduces solar heat gain, provides UV protection of expensive furnishings and artwork, and provides the ability to change daytime into nighttime for restful sleep with the simple press of a button.
NETWORKING
Turner Technologies specializes in networking in large custom homes, particularly for new home construction in the Wichita, Kansas area. If you are having network issues with either speed reliability or range, contact us and we will resolve your network issues.
GREEN TECHNOLOGY
Everyone loves to save energy and reduce their carbon footprint. Home automation systems not only make daily tasks easier, but they also can be great energy savers. Green technology allows you to conserve heat, energy and monitor your Wichita, Kansas home's consumption without compromising your lifestyle. Like most people today, Turner Technologies is very concerned about the environment and will take the extra steps of designing your home's technology systems to conserve energy and give you the option of having actionable intelligence on your home energy management.
SECURITY AND SURVEILLANCE SYSTEMS
The smartest thing you can do for your smart home is keep it safe. Home security and surveillance systems give you peace of mind, and help keep your family connected at the same time. With a combination of cameras, motion sensors and control integration, you never have to worry about leaving your Wichita, Kansas house unattended.
ELECTRICAL SERVICES
A standby home generator keeps the key rooms and critical items powered on in your home during an outage. It is installed outside your house (like an AC unit) and comes on automatically — whether you're home or away. All within seconds of a power outage. Plus home generators run on propane or natural gas, so there is no refueling. Turner Electric's generators manage themselves and send you notification via email weekly that it is functional or if there is an issue that needs addressed. Turner Electric handles the design, installation and long term support for home generators in the Wichita, Kansas area.
OUTDOOR SOLUTIONS
There's no reason for the entertainment to stop just because you've stepped outside. Back yards, patios and decks are as important parts of our homes as our living rooms. And like in the rest of the house, we can enjoy great music, TV and advanced lighting scenes outside. Entertaining in the sun or relaxing in the shade are both better with a good music system and easy automation. For outdoor audio video, landscape lighting, and electric sidewalk & driveway installations in Wichita, Kansas, contact us today.
WHOLE HOUSE AUDIO AND VIDEO
You don't need a stereo system in every room of your house in order to listen to great music everywhere. Multi-room music can be streamlined for centralized control. The same goes for video. Custom installed whole house audio and video systems can take the audio and video content from a central location, such as a media rack in the basement, and distribute it all over your Wichita, Kansas house, even outside. Selecting the tune, station or program you want to enjoy is as simple as tapping a keypad or an app on your smart phone.
MEDIA ROOMS
A media room combines the larger-than-life audio and video sensation of home theater systems, but in a multipurpose room in your Wichita, Kansas home that can be used for other occasions. Through our media room design, these spaces are optimized for more lifestyle-friendly use, such as impromptu video game sessions, Sunday double-headers or family movie nights.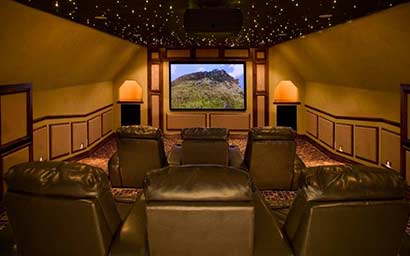 DEDICATED HOME THEATER SYSTEMS
A dedicated home theater is more than a television and some speakers. A custom designed home theater system delivers an immersive sound and video experience that rivals, and often exceeds, the experience from your local commercial cineplex in Wichita, Kansas. The large screen and enveloping sound of a home theater turn a dull Friday night into family movie night, without the sticky floors, interruptions and ticket lines. Home theater systems are also great for sports, special events and entertaining guests.